Impactful Major Gift Donors
Susan & Jeff Miller '85
---
Samantha Atchley '17
When it comes to service, passion and love for Texas A&M, Susan and Jeff Miller are an exemplary example on every front. The Millers' influence can be seen across campus, both in academics and athletics. To keep the Aggie tradition of excellence alive and strong, the Millers take pride in doing their part to make Texas A&M an even better place than it already is.
PERFECT MATCH
A Minnesota native, Jeff made the southbound trip to College Station after hearing of A&M's prestigious petroleum engineering program. An unbeatable education matched with a more favorable climate made Aggieland seem like the perfect fit for Jeff. After one visit to campus, he knew that it was.
"My mom actually saw a ranking where Texas A&M University's undergraduate petroleum engineering program was number one in the nation," Jeff recalled. "On top of that, an uncle of one of my close friends was a professor at the veterinary school. When I came down to College Station for the first time, not only was I welcomed by an extended family, but when I did my tour at the petroleum engineering school, several of the professors were also very welcoming. Having an extended family, a great academic program and a very warm welcome by the professors in the department is what got me to Texas A&M."
During his time in Aggieland, Jeff walked onto the Texas A&M track and field team and competed as a triple jumper while balancing his academics. He graduated in 1985 and began his career working in various capacities of the energy business sector, starting first as a petroleum engineer with Exxon in Houston before beginning his graduate studies at Columbia Business School in New York City.
After earning his MBA, Jeff worked in New York in energy investment banking with UBS (formerly Dillon Read). It was upon his return to Texas that he met his wife, Susan. A Waco, Texas, native and graduate of the Hankamer School of Business at Baylor University, Susan had also recently moved from New York after working in private banking lending on Wall Street. Returning to the Lone Star State to start her sports medicine supplement company serendipitously put the two in Dallas together. Susan and Jeff were later married and had their daughter, Blaise '20, and son, Pierce '23.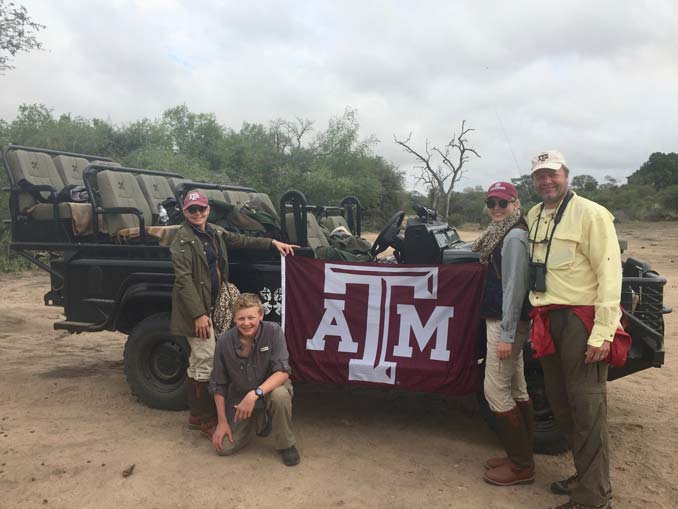 "Any and every place where donations can make a difference is important if we want to maintain our trajectory with Coach Fisher and his staff, and to take it to the next level."
BECOME A CHAMPION FOR AGGIE ATHLETICS
With their generous commitment to Texas A&M Athletics, Susan and Jeff Miller '85 are helping provide championship-level facilities for Aggie student-athletes. Join Susan and Jeff as Champions Council members with an investment in support of Aggie Athletics. Contact Lauren Hickey at 979-260-7595 or by email
AN AGGIE FAMILY
Jeff certainly shared his passion for A&M with his family, "converting" Susan into a die-hard Aggie (as he says) and immersing both of their children into the magic of Aggieland.
"Neither kid applied to any other school," Jeff said. "They grew up going down to College Station for games and I'd take them to various functions of different things I'm involved in.>
"They were thoroughly brainwashed from infancy to love Texas A&M," he joked.
Following in her father's footsteps, Blaise is now a junior majoring in petroleum engineering and is set to graduate in December of 2020. Pierce was recently accepted into the College of Engineering and will be joining his sister on campus soon as part of the Fightin' Texas Aggie class of 2023.
"Candidly, to see my kids there in the same engineering program – my daughter in petroleum engineering and hopefully my son also in petroleum engineering – it really makes Susan and I proud to see the success that they've had," Jeff said.
Over the years, Jeff has made for quite the role model for his kids, assuming various positions that have taken them far and wide, from Fort Worth all the way to Geneva, Switzerland.
Currently, Jeff serves as the Managing Partner and CEO of Vortus Investments, an oil and gas private equity firm he co-founded about five years ago.
"The Aggie energy fraternity is a very strong one," he said. "Whether it's personal, professional or just having a sounding board, the camaraderie that exists within Texas A&M is very special in the U.S. and abroad."
GETTING INVOLVED
The Millers have contributed to several academic scholarships over the years, and Jeff has served on the Advisory Board for the Department of Petroleum Engineering for the past 12. It was during this time that he and Susan really began giving back to A&M, specifically to petroleum engineering.
When the Millers learned how they could impact athletics through the 12th Man Foundation from Senior Vice President of Major Gifts Brady Bullard, the couple proudly answered the call.
"If it helps advance Texas A&M and Aggie Athletics, the Millers are on board and there to help," Bullard said. "They all bleed maroon, even the former Baylor Bear."
"Brady shared with me some of the needs and the impact that I could make, and he has been very good at helping me further grasp the importance of having the athletics program be in the top tier and what it takes to get there," Jeff said. "Purely from an athletics standpoint, to have the best student-athletes, you have to have the best facilities, and that is something that goes hand in hand."
The Millers' first gift in support of Aggie Athletics was pledged to the construction of E.B. Cushing Stadium, the sparkling new home for A&M's nationally-ranked outdoor track and field program.
"Track and field is another area where A&M has had a long and successful franchise, and I have a personal connection with it," Jeff said. "Recruits want to see if our product offering is as good as the other schools that they're considering, and I think that it's important to continue on our current path of positive progression to have the best facilities in the nation and ensure that you're going to have the best team in the nation as a result."
Susan and Jeff became Champions Council members with their track and field gift in 2017 and have continued to increase their involvement with the 12th Man Foundation.
Most recently, the Millers made a significant contribution to the Davis Player Development Center's expansion – a project set to keep A&M's most technologically advanced workout facility at the forefront of football student-athlete development.
"I guess the way I look at it is, the football program is obviously the outward facing front porch of the university, and I think it's important to maintain competitiveness," Jeff said. "I think the expansion of the Davis Player Development Center makes us even more attractive to get the top recruits in the nation."
In hopes to make an impact on the positive progression, the pair saw undeniable value in their contribution to the project.
"Any and every place where donations can make a difference is important if we want to maintain our trajectory with Coach Fisher and his staff, and to take it to the next level," Jeff said. "The Davis Player Development Center is a very special facility, and if our gift can make it an even better place to get those additional top recruits, then all the better."
MAKING AN IMPACT
The feeling of seeing their contributions benefit the future of Texas A&M is second-to-none in the eyes of the Millers. Susan and Jeff enjoy passing down the many benefits to their own children and are proud of the impact they have made and continue to make in the lives of student-athletes. A&M holds a special place in their hearts, and their generosity is ensuring that Aggieland will continue to be a special place for years to come.
"What I've done at A&M is just helping to make it a better place, and any influence or ideas that I can bring to make A&M an even more special place is why I serve," Jeff said. "It makes you proud to be an Aggie, and it makes you proud to see how our generosity and others' generosity is making A&M to be an even better place than what it was – higher profile, higher goals and higher achievements."