Power of a Scholarship
The Shelby Family
---
The opportunity to attend Texas A&M has made a generational impact on the Shelby family
By Olin Buchanan
When Jimmie Shelby came to Texas A&M 36 years ago, he envisioned making life-changing runs at Kyle Field and leaving a legacy.
He accomplished both. Just not in the way originally planned. Jimmie learned goals can be refined and the path to them re-routed. He also learned the payoff can be greater than ever imagined.
Once a blue-chip football prospect, Jimmie was unable to fulfill his quest for stardom. Now a successful small business owner, the 54-year-old has found even greater gratification in seeing his daughter, Chloe, pursue her dreams.
She continued what has become a family tradition by graduating from Texas A&M. In May, she received a degree in Sports Management, though was not able to make the triumphant walk across the stage due to the cancellation of graduation ceremonies because of the COVID-19 virus.
"It's been a long trail," Jimmie said from his home in Pflugerville. "It's been great watching the different changes and things she's been a part of. There was a little bump in the road, but we're still excited about it."
Chloe was thrilled to follow the trail that her parents first blazed.
"They're passing the torch down to me," she said. "It's my time to make my footprint."
Considering the Shelby family history, it was no surprise that the trail of footprints led from Pflugerville to College Station. Chloe was quite literally born to be an Aggie.
Her father was a star high school football running back in Italy, a small Texas town south of Fort Worth. He rushed for more than 5,000 yards and accepted a scholarship offer from A&M as one of the prize prospects in Jackie Sherrill's 1984 recruiting class.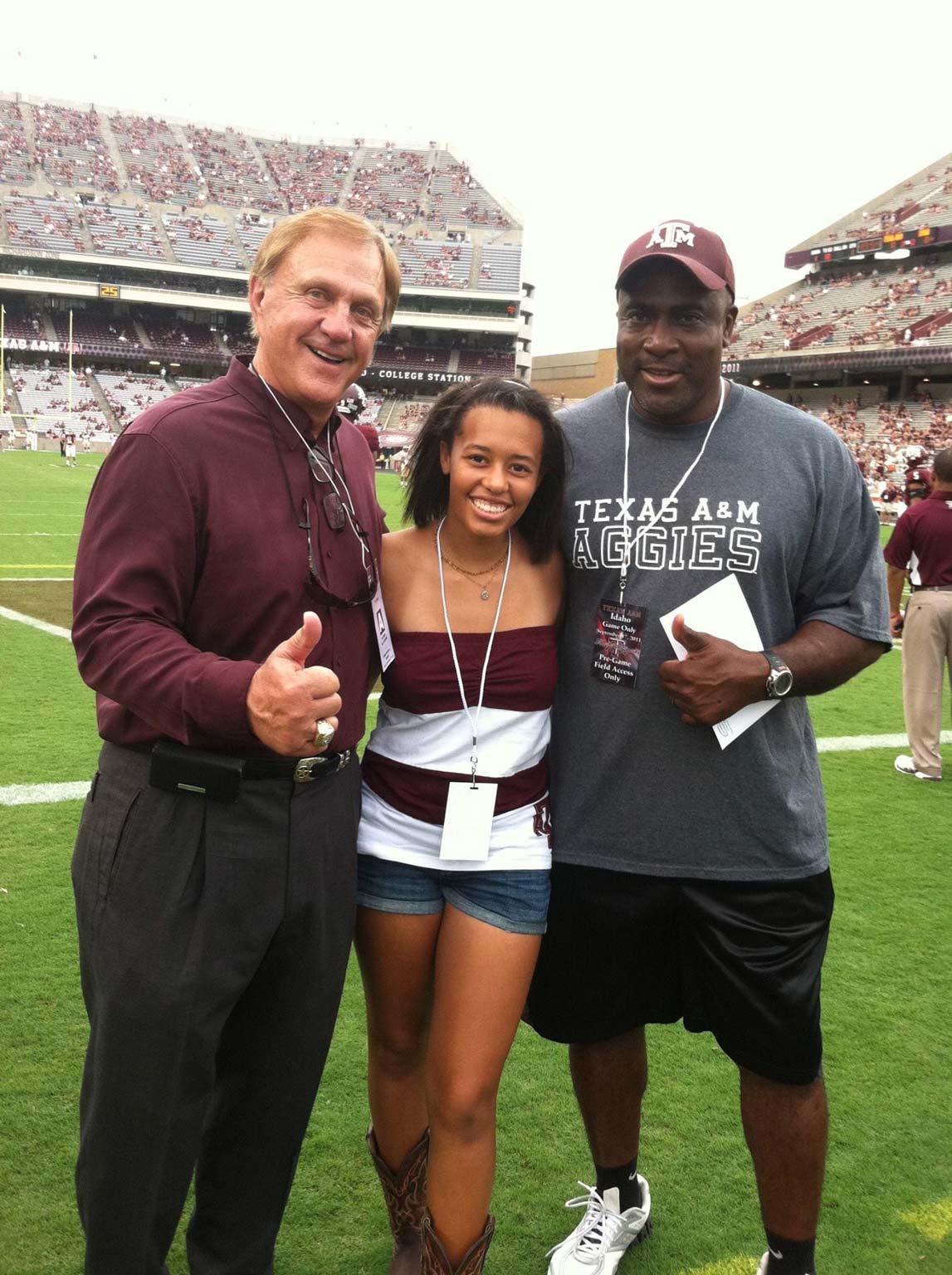 "To be involved in the past, present and future of A&M is one of the greatest experiences I could have imagined."
"He would have been either a great linebacker or running back," Sherrill said. "He could have been an all-conference player on either side. He would have been in the kicking game. He would have played an awful lot."
Unfortunately, Jimmie sustained a devastating knee injury in the Texas High School Coaches Association All-Star game and was never able to play collegiately.
Not that he didn't try. He used his athletic scholarship to get an education from A&M and help the team while trying valiantly to salvage his football career.
In those days an all-weather track surrounded the artificial turf of Kyle Field, which was open to the public.
During his attempts to rehabilitate his damaged knee, Jimmie met Kirsten Adams, an education major from Nebraska and daughter of an A&M Wildlife and Fisheries Sciences professor.
Their friendship became a romance which became a marriage. Chloe, their only child, made frequent trips to College Station to see football games in the stadium where her parents met.
"I had grown up spending all my weekends in College Station," said Chloe, who turned 22 in June. "Like all Aggies, once I experienced it there was no going back. I tried looking at others schools, but nothing sparked my passion like wearing my maroon and cheering on my Aggies."
Chloe wasn't content to recite Aggie yells and stand ready during football games. She wanted more. She wanted to be involved.
She immediately joined Aggie Elites, formerly known as Aggie Hostesses, an organization that supports Texas A&M Athletics. As a sophomore, she helped create "Team 12," which serves the Texas A&M Lettermen's Association as well as the Aggie football and basketball programs.
"That pushed me to further my passion for athletics," Chloe said. "I developed relationships with lettermen and athletes.
"I wanted to be involved some way. To be involved in the past, present and future of A&M is one of the greatest experiences I could have imagined."
Last spring she interned with the Letterman's Association. She assisted with office operations and helped prepare for the spring game, which was canceled because of the COVID-19 threat.
"Meeting the lettermen and hanging up their jerseys ignited my thoughts and passion of helping their transition to the real world," Chloe said.
In that regard, she'd be following the example her mother set three decades ago.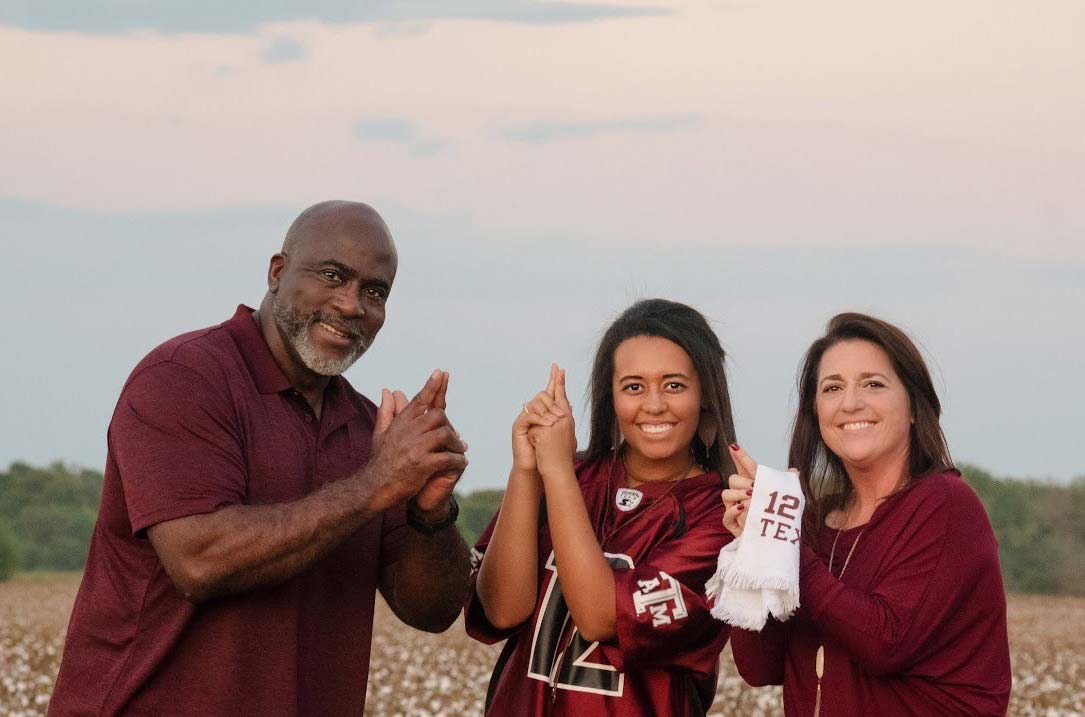 "When I met Jimmie, he was just making the decision not to play football anymore," Kirsten said. "Like most guys, he tried to play it off like no big deal. But it got to the point he didn't care about his degree plan. He stopped working out as much. He was lost. He didn't know who he was without football.
"I came in and put his degree plan together. He just needed some direction. He was just trying to find who he was supposed to be. A lot of that became clear when he became a dad and owned his own business."
And as Chloe met more A&M lettermen and learned more about her father's history, the career path she hopes to take became clearer.
"I know (Jimmie's) stories and his friends stories," Chloe said. "There is a need for helping those players re-route their lives after sports. I'd like to devote a career to helping them find their way."
Her father could not be prouder.
"It means a lot to me," Jimmie said. "Players will say 'My son is going to play football and follow my legacy.'" She's a girl. But as my daughter she still followed my legacy and did above what I did. She made her own footprint being a part of the athletic program."
Of course, she did. Graduating from A&M and being involved in athletics was in her DNA.