Gameday Starts with a Ticket
---
Months of planning, preparation and work lead to seven special Saturdays at Kyle Field each fall
---
By Samantha Atchley '17
Each year as summer draws to a close, excitement begins to build for the Aggie football season. Former students and fans from all over finalize plans to visit Aggieland, make memories in Kyle Field and take part in all the traditions they hold so dear.
While the gameday experience seems to be just beginning, in reality, the preparation behind these moments takes place months in advance, as each Aggie's gameday experience begins with a ticket.
The 12th Man Foundation is committed to providing a great fan experience to every ticket holder, and that, according to Lacey Williams, is reflected in the work that goes into developing a seamless ticketing process at Texas A&M.
"While the ticket itself is just a temporary possession, we understand that the gameday memories are lifelong," said Williams, who serves donors and ticket buyers as vice president of ticketing. "We strive to provide our fans with great ticket options, ticket management and ticketing experiences when entering Kyle Field on gameday."
By the time a football season begins, the 12th Man Foundation ticketing staff is already preparing for the next season. The process of building custom season ticket renewal applications for each account, making ticket inventory available for new buyers and completing hours of meticulous functionality testing all begins before the current season concludes.
Ashlee Shidler says there is no real start and stop between seasons in the ticketing department.
"We start early to make room for a thorough testing process," says Shidler, director of ticketing operations, "and we strive to provide the best ticket purchase and renewal process possible for our fans."
While facing the demands of preparing for future seasons, much attention is still required for executing the current season as well. From the experience tied to the ticket, to the ticket's functionality and management options, the staff is dedicated to upholding the standard set by the organization.
"We prioritize education and training for both our staff and our season ticket holders when it comes to ticket utilization," Williams said. "And because we welcome both paper and digital tickets, we implement extensive training and testing to prepare for scanning either type on gameday."
Balancing innovation and tradition, the staff continues to offer familiar options while also introducing new ways to experience Aggie football at Kyle Field. For example, initiatives to provide buyer flexibility led to the launch of the Gig 'em Pass in 2021 – a unique season ticket option built to accommodate any schedule.
"There's a lot of thought, process and execution behind a fan's ticket purchase. But when you see a full Kyle Field on Saturday, it's worth the year of work and planning to get to that moment."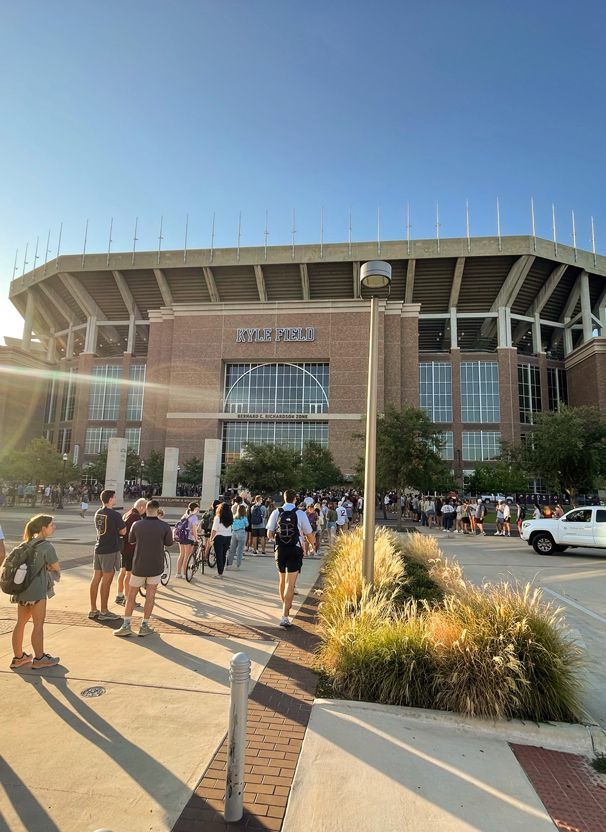 "It takes over 70 student workers and full-time staff to distribute nearly 36,000 reserved-seat tickets each home game week. It is a process unique to Texas A&M ensuring that sports pass holders and their guest get to stand in Kyle Field as the 12th Man."
Justin Morgan says the Gig 'em Pass was a solution based on feedback received from fans who wanted to support Aggie football, but could not commit to all seven games in the fall.
"It was exciting to see the idea come to fruition and sell out so quickly after a year of planning inventory, polishing the buyer process and curating business rules that would allow us to execute on the highest level for our fans," said Morgan, senior director of ticket sales & development. "That committed effort speaks to the dedication of our ticketing staff."
In order to execute a gameday at the scale of Kyle Field, dedication is certainly a virtue required of the 12th Man Foundation staff. With various ticket options at buyers' disposal, the staff is responsible for converting each purchase into a reserved seat for every fan.
As Williams describes it, "filling the stadium is comparable to completing a unique puzzle."
As various tickets are sold, each buyer is manually positioned into their respective seats and sections, piecing each part of the 12th Man puzzle into place.
And to add another component to the equation, A&M provides reserved seating for each of the nearly 36,000 sports pass holders who fill the student section on gameday. Given A&M's unique ticket-pull system to allow upperclassmen best luck of the draw, the student ticketing operation presents its own separate workload that results in an industry-leading payoff.
As senior manager of ticket operations & events, Amy Janac oversees the countless hours of training and organization that goes into making the student ticketing process possible.
"It takes over 70 student workers and full-time staff to distribute nearly 36,000 reserved-seat tickets each home game week," Janac said. "It is a process unique to Texas A&M ensuring that sports pass holders and their guest get to stand in Kyle Field as the 12th Man."
For seven Saturdays of the year, each of these elaborate ticketing processes work in concert to execute one of college football's greatest atmospheres. To the power of more than 100,000, the 12th Man is truly a sight unlike anything else.
"There's a lot of thought, process and execution behind a fan's ticket purchase," Williams added. "But when you see a full Kyle Field on Saturday, it's worth the year of work and planning to get to that moment."