Trayveon Williams '20
Aggie running back legend hands off an athlete's perspective to
Texas A&M University School of Law NIL course
---
By Charean Williams '86
Trayveon Williams answers to "Nunie," a family nickname, but it seems like his teammates should start calling him "The Professor." The former Texas A&M running back, who now plays for the Cincinnati Bengals, began co-teaching at A&M's School of Law in Fort Worth this spring.
Williams began serving as an adjunct professor, teaching alongside sports attorney Alex Sinatra.
"This is something I never even thought about doing until the opportunity presented itself," Williams said. "Now, I'm excited about it. It's weird how life works. Sometimes you never know the thing that you want to do until it's put in front of you. It's just one of those things that just came about. Let's see where it goes."
Williams' new offseason job began as a joke. Above The Law, a legal magazine, published an article in 2022 that included Williams as a metaphor for A&M's law school "run up" the rankings, writing, "You might think Trayveon Williams was doing the rushing here." The dean of the university's law school, Bobby Ahdieh, joked on Twitter that Williams was joining the law school as a next faculty recruit, and Williams saw the tweet.
"I'm like, 'What's going on?'" Williams said. "I quoted the tweet and said, 'Am I missing something?' and then it kind of blew up."
Sinatra received her BBA in marketing from A&M in 2011 and her JD from A&M's School of Law in 2014. In the spring of 2022, she began working with Mays Business School and Aggie Athletics on AmplifyU, a name, image and likeness (NIL) program designed to help student-athletes maximize their brand and platform.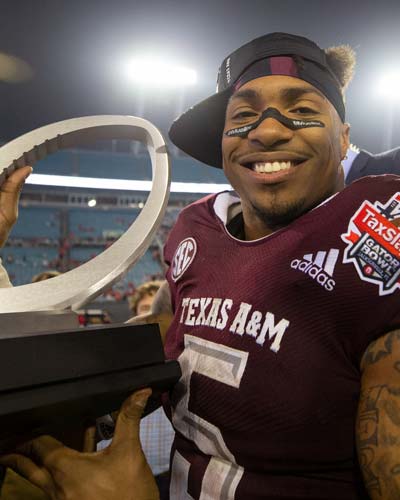 "Every single day I thank Texas A&M for giving me that opportunity. I thank the 12th Man for embracing me and loving me and allowing me to be an ambassador for the university."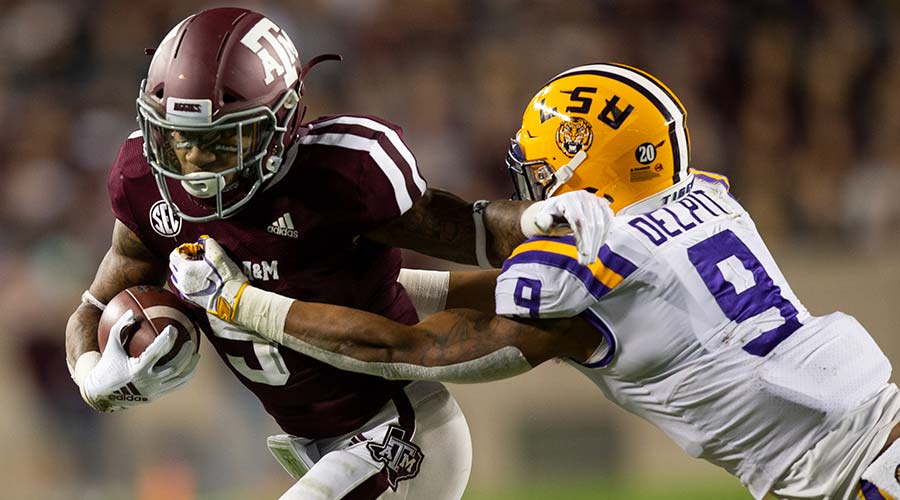 Sinatra has taught a bootcamp course for student-athletes centered around NIL law and contract negotiations/reviews. She was in discussion with A&M's law school about possibly teaching an NIL class before Williams and Ahdieh's interaction on Twitter.
"After I saw Trayveon responded to Dean Ahdieh, I said, 'I should just reach out to him,'" Sinatra said of Ahdieh. "I asked Dean Ahdieh: 'If I could get a co-teacher like Trayveon or another professional athlete who was an Aggie to teach with me, would that be feasible, something that would be allowed?' He said, 'Definitely, if you can get someone.' I said, 'I don't think it'll be a problem, actually, because Aggies stick together. If it's not Trayveon, I'm sure I could find another athlete. But let's go to Trayveon first, because he seems interested.'"
Sinatra sent Williams a direct message, and two days later, he responded. Without hesitation, or even much discussion, Williams accepted the offer, saying, "Sign me up."
"It's funny: Trayveon and I didn't know each other before this. This was just a blind reach out," Sinatra said.
This spring, they began teaching a class on NIL law and athlete advocacy with the course curriculum including handling negotiations, drafting and reviewing contracts and understanding FTC regulations.
"The focus of the class is to help these future athlete advocates understand that athletes are humans first and in order to be the best advocate you can be for your client, you must have empathy and understanding," Sinatra said. "Whether you ultimately decide to pursue a career in sports, the skills you will learn in the class will help you be not only a zealous advocate for your client but also empathetic."
Williams brings an athlete's perspective to the class.
"Obviously, NIL is black and white," Williams said. "The whole purpose of me being in the class is to bridge that gray area. Student-athletes need an attorney who can show them how to maximize their name, image and likeness. I hope I can help them better understand student-athletes' needs and what it's like being an athlete."
Williams is one of the most popular student-athletes in A&M's recent history, but it took a change of heart in November of 2015 to change the course of his life. The four-star running back from C.E. King High School in Houston was verbally committed to TCU until he visited College Station.
"We went on an official visit with him, and ah, man, the Aggies, the Aggie network, the school, the community — it was just amazing to see," Williams' mother, Joyce Davis, said fondly. "In an instant, he said, 'I belong at A&M.' That was the best choice he could have made, absolutely. It's opened doors for him and opened up a new world for us. Aggies are everywhere. My husband had a stroke, and the doctor in the emergency room had an A&M pin on. I asked him, 'Did you graduate from A&M?' He said he did, and I said, 'Well, Gig 'em!' He said, 'Oh, Gig 'em! Are you from A&M?' I told him my son was Trayveon, and he said, 'I love that kid.' Everywhere you go, you see somebody's license plate or a bumper sticker. You pass somebody wearing an Aggie shirt and it's like, 'Gig 'em!' 'Gig 'em!' 'Howdy!' 'Howdy!' It's amazing. I know he made the right choice. We're an Aggie family, and we're always going to be an Aggie family. It's our family."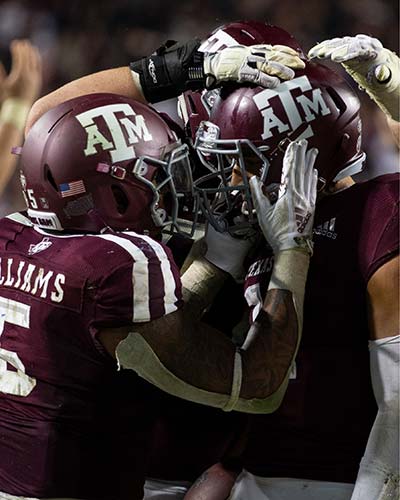 Williams spent three seasons in College Station. He had two 1,000-yard rushing seasons and finished with 4,176 yards from scrimmage and 35 total touchdowns in his career. Williams' 1,760 rushing yards in 2018 set a single-season school record.
The one thing he did not accomplish at A&M was finishing his degree, choosing instead to enter the NFL draft as an underclassman. Williams remains nine hours short of a bachelor's degree.
He was scheduled to finish in the spring of 2020 when COVID changed his plans. Williams said he will return to College Station soon to complete the three classes, a goal of his and his mother's.
"I really wanted him to stay and get it, but I understood at the time what he needed to do," Davis said. "But we did have that talk, and he made a promise to me that he will go back. It's very important."
The Bengals made Williams a sixth-round selection in the 2019 NFL Draft, and he has played in 34 games in four seasons.
He has also continued to consider his future. Williams already runs three businesses: He has a production company, a credit repair company and an exotic rental car company.
Now, Williams has an opportunity to see if he wants to consider teaching as a post-football career.
"My scholarship gave me a chance to maximize my life," Williams said. "Every single day I thank Texas A&M for giving me that opportunity. I thank the 12th Man for embracing me and loving me and allowing me to be an ambassador for the university. I want to represent the university in every way possible. I love it to death.
"That Aggie network is real. This is a great example, getting a chance to teach this class. I am so blessed and so thankful that I was able to get the scholarship from Texas A&M. It absolutely changed my life. I'm an Aggie for life. For real."