Troy Claunch '23
Graduate transfer embraces everything about being an Aggie during one historic baseball season
---
By Will Johnson '01
On a cool night in January at Blue Bell Park, Troy Claunch stood on Olsen Field in full uniform ready for his moment under the lights.
When his cue came, Claunch shouted, "Selfless service - one of this university's timeless traditions!"
He was belting out a line from a script for a video that would be shown during games throughout the season. The piece, titled "The Corner," focused on Texas A&M University's core values - the same standards the Aggie baseball program would live by during an unforgettable 2022 season.
A graduate transfer from Oregon State, Claunch ingrained himself in Aggieland immediately after arriving on campus in the fall of 2021. Pursuing a Master of Real Estate degree through the Adam C. Sinn '00 Department of Finance while preparing to play his final season of college baseball, Claunch knew exactly what A&M represented and was all in on being an Aggie.
When Jim Schlossnagle decided that a deserving student-athlete would represent the 12th Man on the Aggie baseball team by wearing the No. 12 jersey, it was Claunch who was selected for embodying the ideals of the program and university.
"Our staff talked long about this selection because there are so many great human beings on our team that represent the values of this great university," said Schlossnagle, A&M's head baseball coach. "At the end of the day, we felt like Troy stood out. He is truly committed to excellence and selfless service on a daily basis."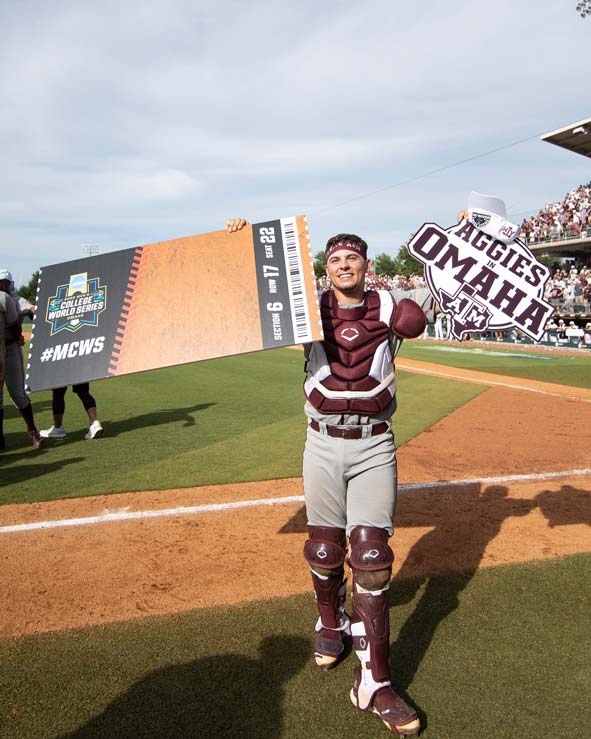 "Coming to Texas A&M has been a life-changing experience. This place has meant a lot to me, and I'm going to hold it dearly in my heart for the rest of my life."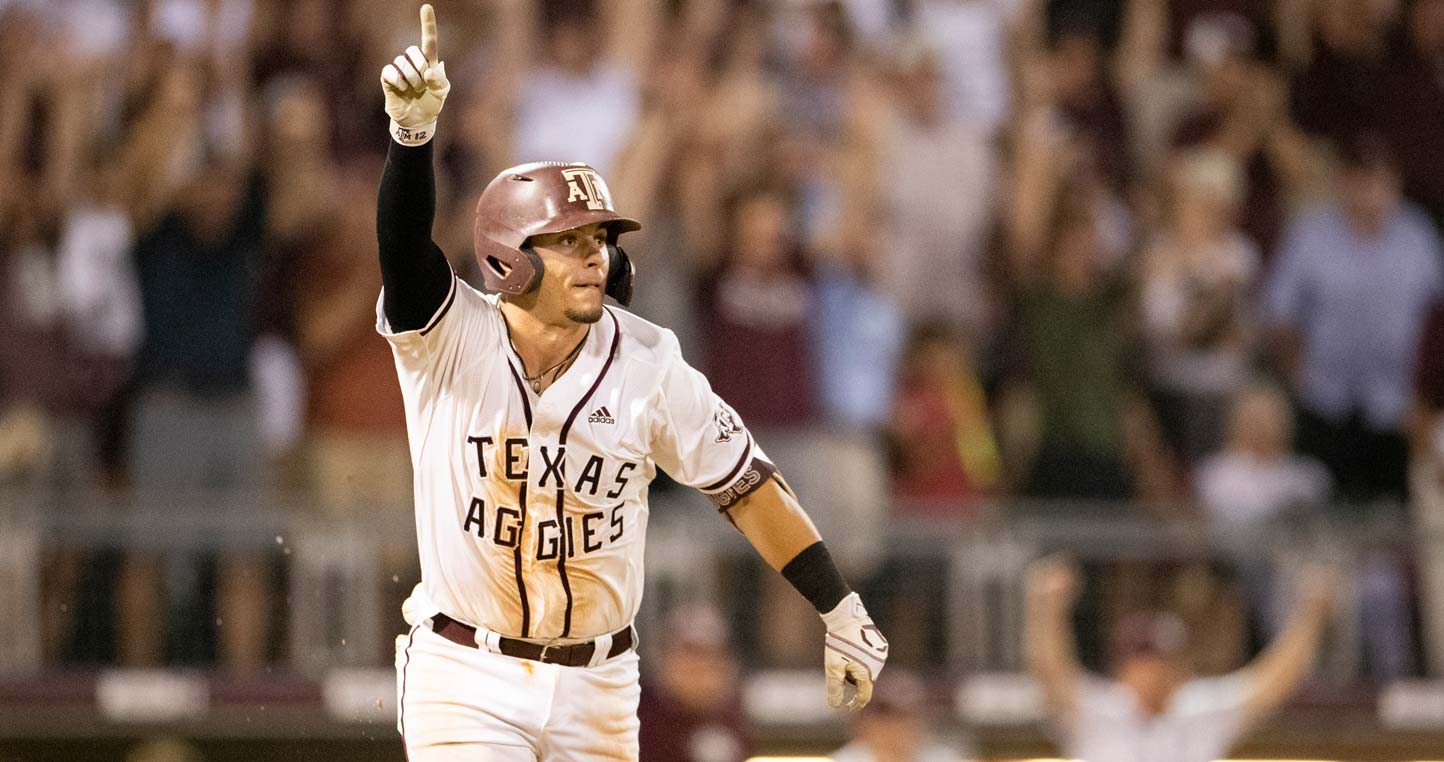 Claunch knew the significance of having the revered number on his back, and he hopes the example he set in one season brings longevity to a tradition started upon his arrival to Aggieland.
"When coach presented me with the opportunity, I was really humbled," Claunch said. "It's something I did not take lightly. Every time I put it on, I wanted to leave that jersey better than how I found it."
When Schlossnagle took the job, much was new within a program that had existed since 1894. There was a new coaching staff, multiple transfers, returnees learning a new system and high school signees stepping into college athletics for the first time. With leaders like Claunch as the backbone, the team came together brilliantly for the 2022 season.
"None of us had really played together in a real game," Claunch recalled of the start of the year. "You have to have a lot of trust in your teammates. If you have a bad at bat you have to be able to trust the guys behind you to be able to come through. It's something we were quickly able to do. Just trust each other."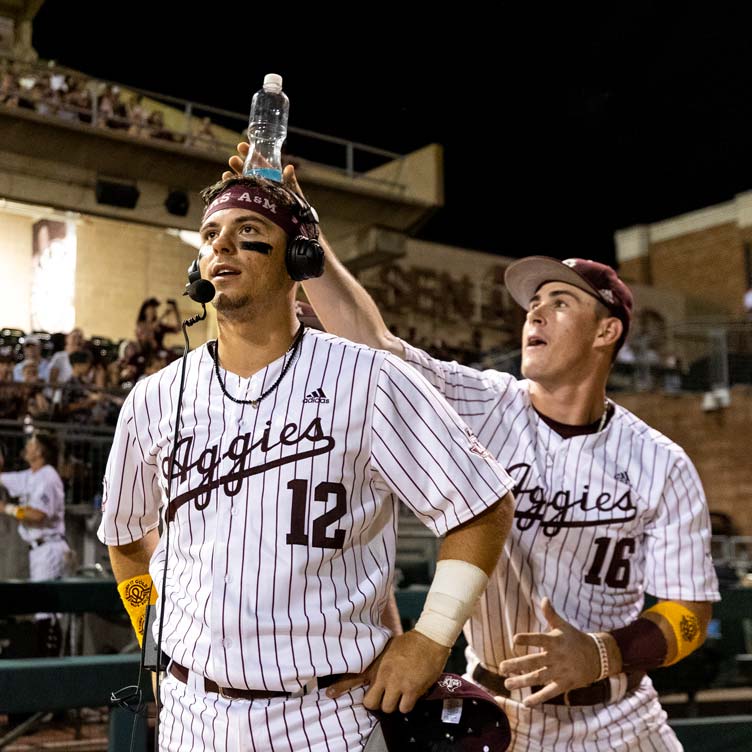 Trust was a key ingredient to what turned out to be a magical season for the maroon and white. An example came on May 7, when A&M trailed South Carolina 9-0 after four innings at Blue Bell Park. The Aggies mounted a serious charge, and when Jack Moss scored on a Brett Minnich ground out in the 8th inning, they trailed just 10-9. Claunch was coming to the plate with the tying run on third base and the go-ahead run on second.
"Jack scores and I'm walking up to the plate," Claunch recalled. "He just gives me a hug and says, 'I love you.' I said, 'Alright, I'm going to do this for you - I got you.'"
Claunch ripped a base hit scoring two and put the Aggies up 11-10. They finished off the amazing comeback in the bottom of the ninth, winning 13-12.
"Troy is a winning person and player, plain and simple," Schlossnagle said. "The greatest compliment I can give a player is that he is who I would want my son to grow up to be and who I would want my daughter to marry. That can definitely be said about Troy."
On June 11, Claunch delivered Olsen Magic again with a bases-loaded single in the bottom of the ninth against one of the best closers in college baseball giving the Aggies a 5-4 walk-off victory over No. 9 Louisville in the opening game of the College Station Super Regional. That comeback victory and A&M's win over the Cardinals the next day propelled the program to Omaha for the first time since 2017.
Indeed, Claunch was at the core of one of the finest seasons in A&M baseball history, which included advancing to the semifinal round as one of the final four teams in the College World Series for the first time.
That success combined with his embrace of A&M and its core values represent a remarkable example of making the most of an opportunity.
"Coming to Texas A&M has been a life-changing experience," Claunch said. "This place has meant a lot to me, and I'm going to hold it dearly in my heart for the rest of my life."