Aggie Football

---

Join us for all the excitement and pageantry
at Kyle Field this Fall

Your browser does not support the video tag.
Pricing & Maps
---
Kyle Field will host seven Texas A&M home games in 2020 featuring fellow former Big 12 member Colorado as well as SEC foes Ole Miss, Vanderbilt and LSU.
Season ticket prices remain the same as the 2019 season while annual contributions required to retain seating options in certain seating areas of Kyle Field have increased to support Texas A&M Athletics and impact the lives of Aggie student-athletes at an elite level.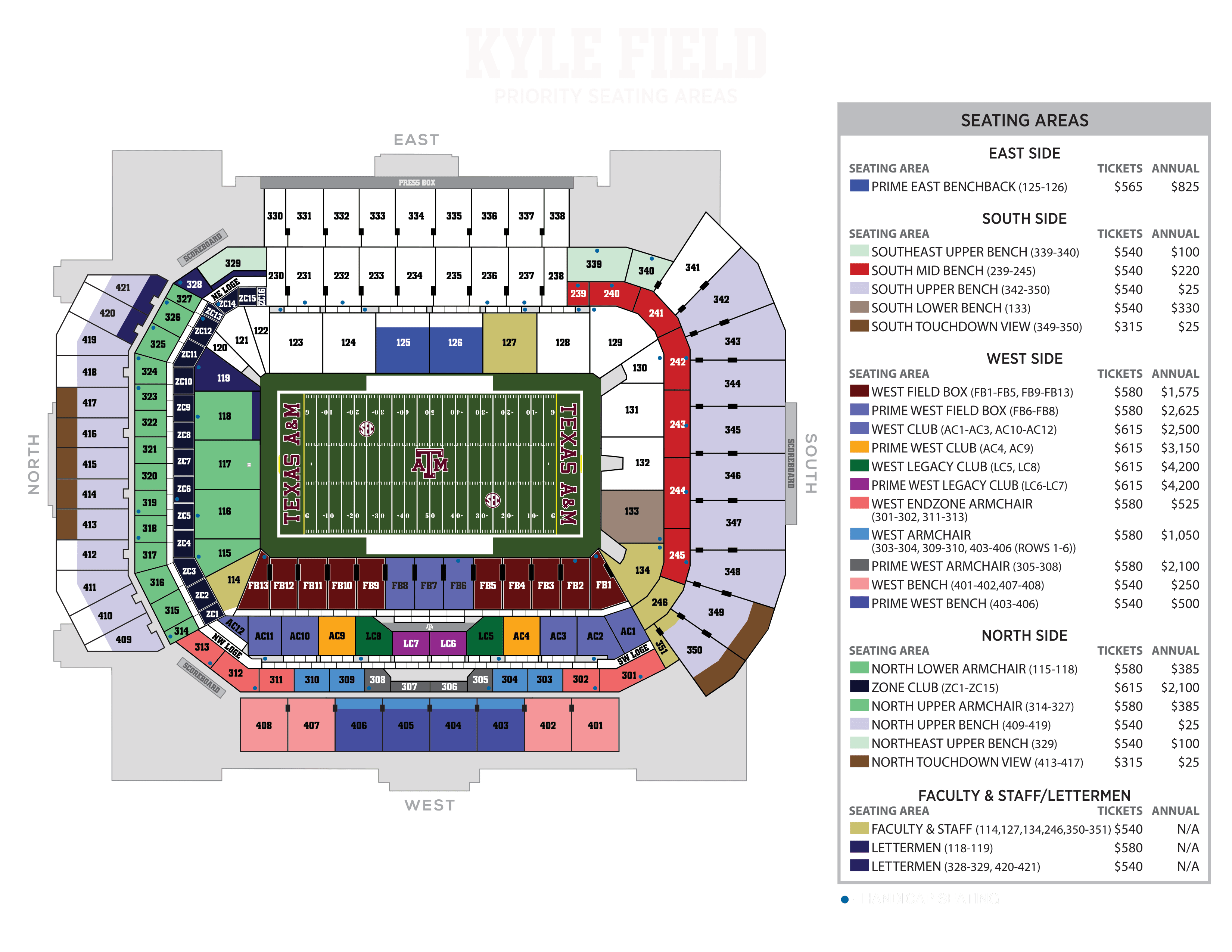 Ticket prices include processing fees
Season ticket holders who have completed or continue to contribute to their Kyle Field Campaign pledge retain priority for renewing their current seats and parking. There is no capital requirement on new seating assignments purchased since 2018
Please note, per the Tax Cuts and Jobs Act passed in 2017, annual seat contributions are not tax-deductible
Parking
---
The 2019 season was the third and final year of the previous three-year parking term and the 2020 season will begin a new three-year parking term that will span the 2020, 2021 and 2022 seasons. The allocation of parking for this new three-year term will be based on:
Your priority point rank as of March 2, 2020
Your ranked parking preferences on your renewal application
Availability of spaces in each lot
Note: While the 2020 season marks the beginning of a new three-year parking term, the 12th Man Foundation reserves the right to halt or adjust the three-year term if necessary due to any unforeseen construction that would significantly impede the game day operations of any 12th Man Foundation parking lot. If necessary, all parking permit holders would be notified with as much advance notice as possible.
Football Parking Map
---
Click here for additional information on parking
Relocate/Upgrade
---
Season ticket holders who opted into the seat selection process will receive appointment times for late April / early May.
2020 Football Seat Selection
---
Increase your Impact
---
A donation to the 12th Man Foundation's Annual Fund directly benefits Texas A&M's student-athletes in the classroom and in competition.
By making a philanthropic donation to the Annual Fund – a gift not tied to your ticket purchase – you can increase your impact on the success of student-athletes while strengthening your connection to Aggie Athletics with a variety of unique benefits.
Donate Now
---
Click here for more information on membership levels and benefits.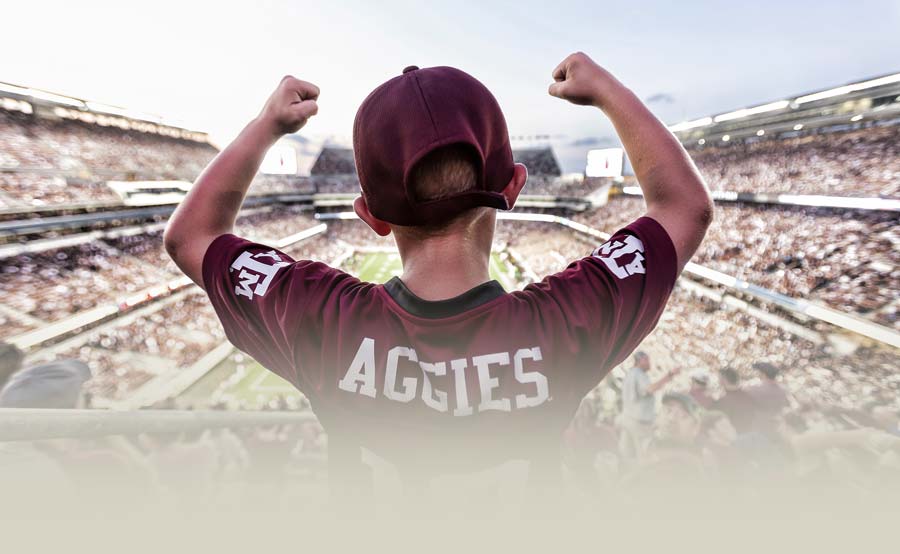 A gift of $750 or more elevates your membership to the MVP level, which includes valuable benefits like 10 additional priority points and invitations to unique events featuring A&M coaches and student-athletes.
A gift of $2,500 or more elevates your membership to the MVP Gold level, which includes several exclusive benefits above and beyond the MVP level and significantly impacts A&M's ability to compete with the premier programs in college athletics.
Keeath
Magee '20
---
"Thank you to our donors. You keep changing lives. We're fortunate to have people like you that want to give back."
FAQs
---
All season ticket holders must be paid in full or enrolled in the payment plan by March 2, 2020. 
Yes, you may request a printable renewal form by contacting the 12th Man Foundation office by phone at 888-992-4443 or by email. Please note, payments made by check will be processed by the 12th Man Foundation as electronic funds. 
Please verify you do not have an outstanding Kyle Field Campaign gift balance. For further assistance, please contact the 12th Man Foundation at 888-992-4443.
Yes. Season tickets for the 2020 football season are currently available and can be purchased through your renewal application. 
Annual contributions required to retain seating options in certain seating areas of Kyle Field have increased. Since the first season in redeveloped Kyle Field, the costs of providing scholarships for Texas A&M student-athletes have increased from $9.1 million (2015-16) to $11.3 million (2018-19). The increases to the annual contributions have been made to support Texas A&M in the hypercompetitive world of collegiate athletics and to impact the lives of Aggie student-athletes through scholarships, programs and facilities.  
Please call the 12th Man Foundation at 888-992-4443 to drop seats and/or parking during the renewal process.
Yes, in the renewal application you will be able to purchase individual home game tickets. Tickets will be assigned based on priority point ranking. Inventory is expected to be in the North, South and West upper bench areas. Orders submitted during the renewal process will be filled before any subsequent individual game donor presale or public sale. 
New Ticket Holders
---
Fans who have not secured season tickets have a bevy of options to experience the unparalleled atmosphere of Kyle Field through the 12th Man Foundation.
Being a season ticket holder is the only way to guarantee the best seats for A&M's seven home games in 2020. Season tickets are on sale now and can be purchased online or by calling 888-992-4443. Additionally, fans can fill out the form on this page and a 12th Man Foundation representative will contact them to discuss ticketing options.
Important Dates & Timelines
---
No current renewal dates.